ARE YOU THIS GUY??
Published On 11/19/2014 3:10 PM
10 Ways to Check if Your Shirt Fits
So when you're in the store, trying your shirt on, what do you look for? How do you determine the shirt is worth your money?
Here's what you do:
1. Check the shoulder seams first.
They should rest at the edge of your shoulders. Not on top, and not over them.




If your shirt fails here, no need to check the rest. It's doomed.
2. Check the buttons.
Are the buttons pulling at the fabric to try and reach each other?
Is the fabric of your shirt coming apart between the buttons?
Bad sign! Your shirt's too tight.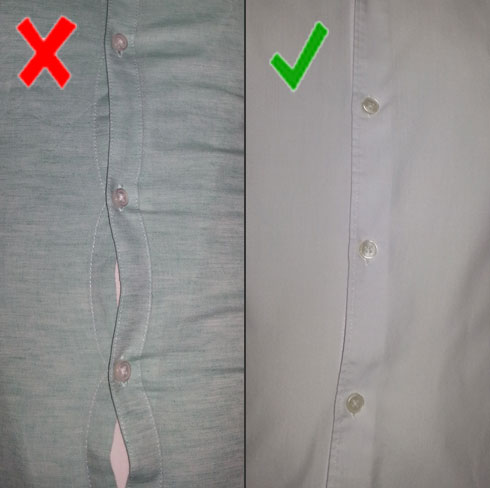 That should be obvious, right?
3. Put two fingers between your neck and your collar.
If you can't fit two, the collar is too tight. If you can fit more than two, your collar's too large.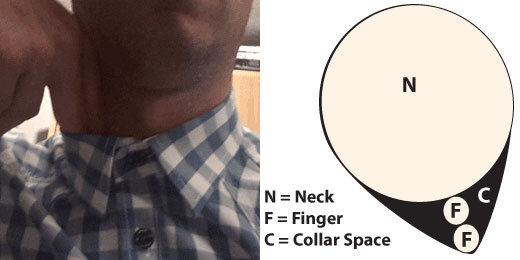 Index and middle finger, guys. Pinkies don't count!
4. Hold up your left arm, and pinch the fabric together at your sides. 
You should be able to pinch between 2-4 inches. Any more than that, and it's too large. Any less and it's too tight.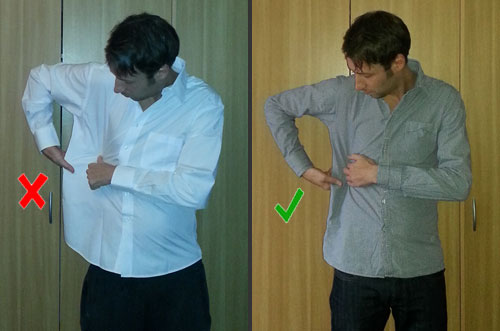 Note how the left picture also looks more depressing. Bad fit at work, guys..
5. Feel how much room you have in the sleeves.
They should be tight, but you should be able to bend your arm without feeling the fabric stretch. Armholes should be as high as possible without restricting movement.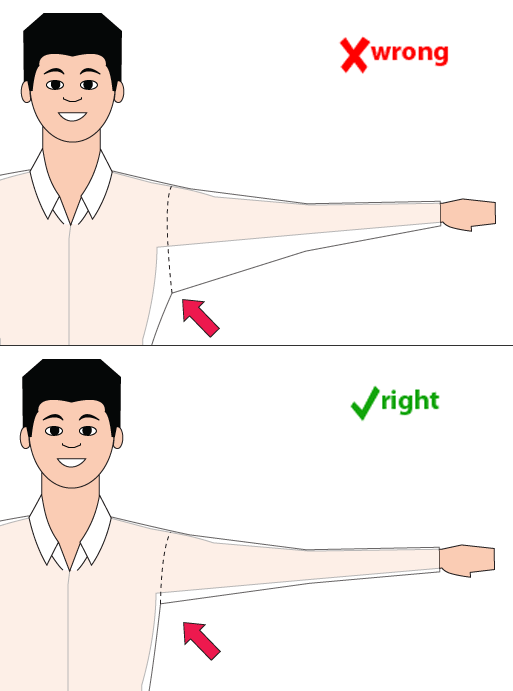 Also important when your shirt isn't see-through.
6. Check where your sleeves end when you let your arms hang by your sides. 
Sleeves should end by your thumb dimple. If you don't understand where your dimple is, glide your finger across the side of your wrist, and feel for an indent.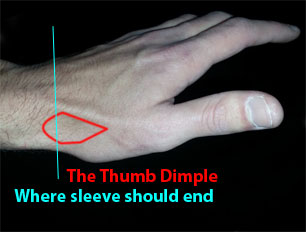 Sidenote: If any of you are looking for good hand-models, I'm available.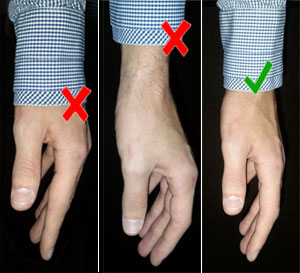 Left: Too long. Middle: too short. Right: As it should be.
7.  Raise your arms in front of you.
If you feel the fabric stretch in the back, it's too tight.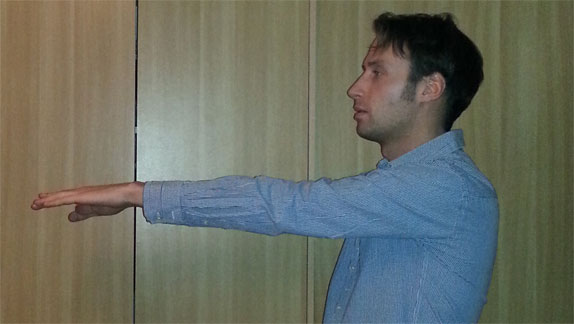 If you were turned into a zombie, would the back of you shirt survive?
8. If you pan on wearing your shirt tucked (some or all of the time), tuck it in when trying it on. Raise your hands above your head and see if it stays tucked.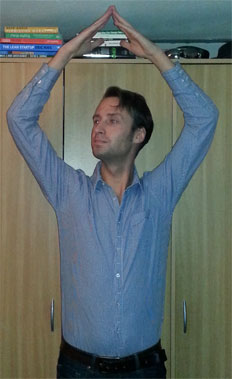 Ballerina pose optional. When in company, I suggest a double fist-pump to protect your masculinity.
9. And while it's tucked, pretend to tie your shoelaces, and see if the shirt stays tucked.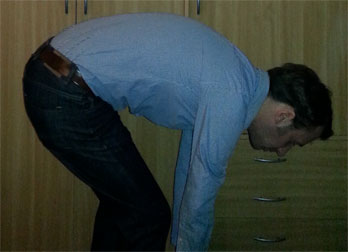 You could also pretend to drop a quarter. Totally up to you.
10. If you plan on wearing the shirt untucked, raise your arms and make sure none of your belly is exposed.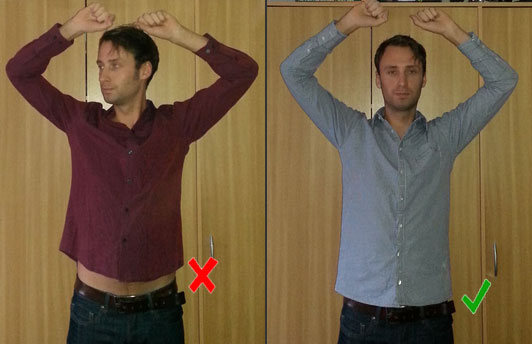 See? The left guy's so embarrassed he can't even look at you.
Now Go Find Some Well-Fitting Shirts
Wearing a great-fitting shirt will make you look and feel so much better. You won't even believe what wonders it does for your confidence.
Prepare for many compliments. Try shopping with us www.kaapus.com